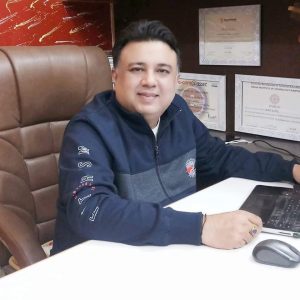 Computer Science Engineer by Choice
He believes that it is technology that has changed the world and made our lives simple. He has been an IBMer also and is having a total of more than 17 Years of Experience working for a couple of other good Indian companies.
Startup Entrepreneur by Passion
He believes that entrepreneurship is the only way to self-discovery and learning. Entrepreneurship is a true teacher and nothing can teach you better things about life other than this path of being an entrepreneur. It's not all about the title of a CEO, it's a LifeStyle and the way you do things.
Executive Director by Profession
He believes that ideas big or small can change the world. Being a mentor and adviser gives him an opportunity to work with the most amazing and passionate people with whom he shares the synergy to create bigger impacts.
Expertise
Expertise in developing technology solutions and managing Information Technology operations with hands-on experience in Extensive experience in executing projects; ramping up projects within time, budget & quality parameters, as per project management & best practice guidelines.
Academic Details
Bachelor of Technology (Computer Science and Engineering) from Guru Nanak Dev University, Amritsar 1999-2003 Batch
+2 Non-Medical from D.A.V. College Chandigarh
10th from D.A.V. Public School, Amritsar
Certifications & Training
PPM (Program and Project Management) Certification from IIT, Kanpur
MCAD (Microsoft Certified Application Developer) in .Net and SQL Server MCP ID: 6269377
IBM Certified Application Development Course on E-COMMERCE – ASSET International
+ Many other International Level pieces of training imparted by companies he has worked for 
Organizational Experience
Presently Working as Founder, CEO & Coach of TopologyPro
Past Experiences
Vaibhav Global Ltd., Jaipur as a Manager – IT
Infosys, Jaipur as a Technology Analyst
IBM India & IBM Europe as a System engineer & Application Lead
Datacrosoft, Genesis Technosoft & Softech IT Park
Last but not least SnM Info Solutions & Canadian Institutes